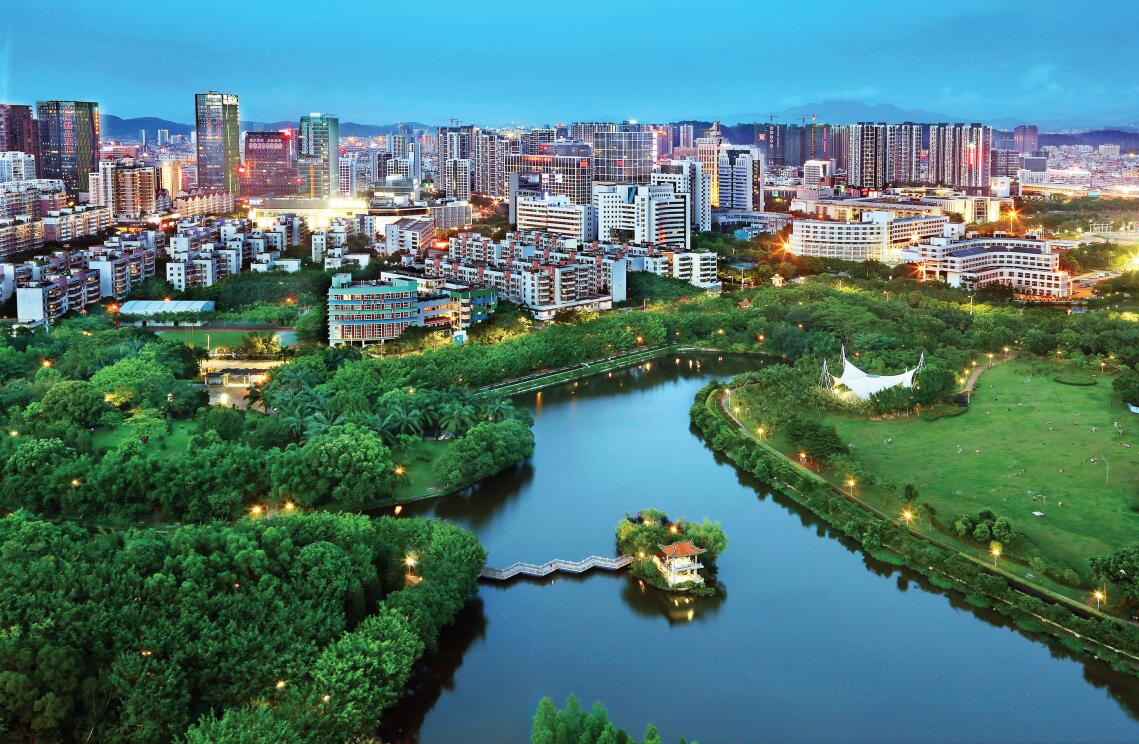 Geographical Location
Longgang District is located in the northeast of Shenzhen City, neighboring Pingshan District in the east, Luohu and Yantian Districts in the south, Bao'an and Longhua Districts in the west and Huizhou and Dongguan cities in the north.
From Longgang one can reach Shenzhen International Airport, ports and checkpoints within 40 minutes. 91 percent of the areas in the district have been covered by bus stops and every two stops are only less than 500 meters apart. The convenient transportation system significantly reduces logistics cost.
Occupying 38,821 square kilometers, Longgang has a population of 4.7 million. There are 11 sub-districts in Longgang including Pinghu, Buji, Jihua, Bantian, Nanwan, Henggang, Yuanshan, Longgang, Longcheng, Baolong and Pingdi , with 111 communities.
Economic development
In 2020, Longgang District achieved positive growth in major economic indicators despite the severe and complicated international situation and the impact of the epidemic.
The regional GDP was 474.449 billion yuan, up 1.1 percent from the previous year. The added value of industrial enterprises above designated size (an annual operating revenue of at least 20 million yuan) increased by 2 percent to reach 278.459 billion yuan. The total fixed assets investment was 132.184 billion yuan. The total consumer goods retail sales reached 127.014 billion yuan, with a decrease of 3.6 percent. The general public budget revenue was 27.043 billion yuan, up 11.6 percent.
Longgang District fully optimized its business environment. It strictly implemented policies and measures of tax and fee reduction, rent reduction and interest rate reduction. In total, it reduced 10 billion yuan in tax, social security and medical insurance for enterprises, and 460 million yuan in rent.
The total assets of the collective economy increased by 9.2 percent. 5G, AI and other industries saw new growth points. The first phase of Dayun AI Town started construction, and the provincial 5G industrial park (Longgang branch) was unveiled.
All the projects signed at the Shenzhen Global Investment Conference in 2019 are now settled down. In 2020, a total of 28 projects were inked. Longgang District attracted investment focusing on key industrial chains. It carried out Internet investment events, organized 100 listed enterprises to visit Longgang, and went to Beijing, Shanghai, Tianjin and other places to attract investment. The total investment amount of investment projects signed during the whole year reached 62.8 billion yuan.
Industries
An industrial system dominated by the primary industry and featuring rapid development of the tertiary industry has taken shape in Longgang. More than 60% of enterprises in Longgang have been matched with local services, of which 90% of enterprises in electronic information industry have been supported by local services. A group of enterprises with core competitiveness have continued to grow and the industrial agglomeration effect is obvious.

Huawei in Longgang
Innovation
Longgang leads the industrial development with innovation, and has formed a regional innovation system which is market-oriented, enterprise-oriented, talent-centered, innovation platform-based and is characterized by the combination of industry-university-research and expansion at home and abroad. The independent innovation capability has continued to improve. The output value of high-tech industries above designated size accounted for an increase in the proportion of total output value above designated size. The number of patent applications and authorizations has been among the top in the city for many years. The district has been awarded the National Science and Technology Progress Advanced District, the National Science and Technology Progress Demonstration Zone and the National Science Popularization Demonstration Zone, and will become the future independent innovation leading zone in Shenzhen.
Cost of Labor
Minimum wage for full-time employment workers: 2,200 yuan / month.
Minimum hourly wage for part-time employment workers: 20.3 yuan / hour.
(Source: Shenzhen Human Resources and Social Security Bureau)
Rents of factories and apartments
The land price of industrial projects in Longgang District is subject to the bidding and auction system, and the price is generally between 800 yuan and 1600 yuan per square meter. The land prices of standard factories built in all subdistricts and communities in the district vary depending on their locations, specific plans and other factors. The rent is generally 9-15 yuan per square meter. The Longgang District Incubation Center of Shenzhen Overseas Students Pioneering Park provides preferential factory rent for the settled enterprises. In the first year, the rent for 100 square meters of factory space is free, and for the rest is 6 yuan per square meter. Starting from the year, the price is 6 yuan per square meter. Rent of residential apartments is generally 8 to 18 yuan per square meter per month. Warehouse rent is generally 4 to 10 yuan per square meter.
Tax