Fresh graduates from Shenzhen MSU-BIT University (SMBU) and Shenzhen Technology University (SZTU) celebrated their accomplishments and had their tassels turned during a commencement ceremony held on their campuses Friday and Saturday respectively.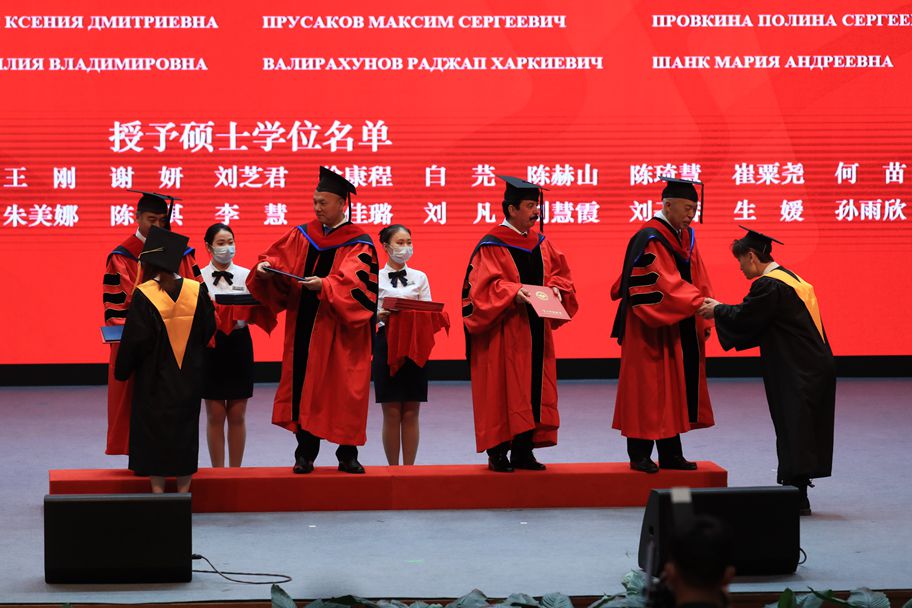 Students from the Faculty of Materials Science of Shenzhen MSU-BIT University (SMBU) receive bachelor's degree certificates during a commencement ceremony held on the campus in Longgang District on Friday. Sun Yuchen
A total of 123 undergraduate students and 34 graduate students successfully accomplished their academic programs in SMBU.
As of now, around 78% of the undergraduates will go on to further studies in SMBU or other top universities around the world. Seven students received offers from renowned companies like Bank of China. Over 50% of the graduates with master's degrees will pursue doctorate degrees, according to SMBU.
Guests including Chinese Ambassador to Russia Zhang Hanhui, Russian Ambassador to China Andrey Denisov, rector of Moscow State University Victor Sadovnichy, and president of Beijing Institute of Technology Long Teng delivered a speech celebrating the graduation via video link.
Li Hezhang, rector of SMBU, said in his speech at the ceremony Friday that he wished students to create their own extraordinary path along with the country's development. During the ceremony, representative graduates presented SMBU a gift of a painting featuring the campus' scenery.
Meanwhile, SZTU granted a total of 722 degrees including 32 master's degrees and 690 bachelor's degrees this year, with the support of Shenzhen University.
Some 119 graduates have been admitted to other prestigious universities including the University of Chinese Academy of Sciences, University of Hong Kong and New York University for master's programs while many others got job opportunities at renowned firms such as Han's Laser, BYD, Huawei and Tencent, SZTU said.
During the ceremony, Ruan Shuangchen, president of SZTU, encouraged students to work hard for their dreams and passions, and to stick to what they believe in whether in good or bad times.