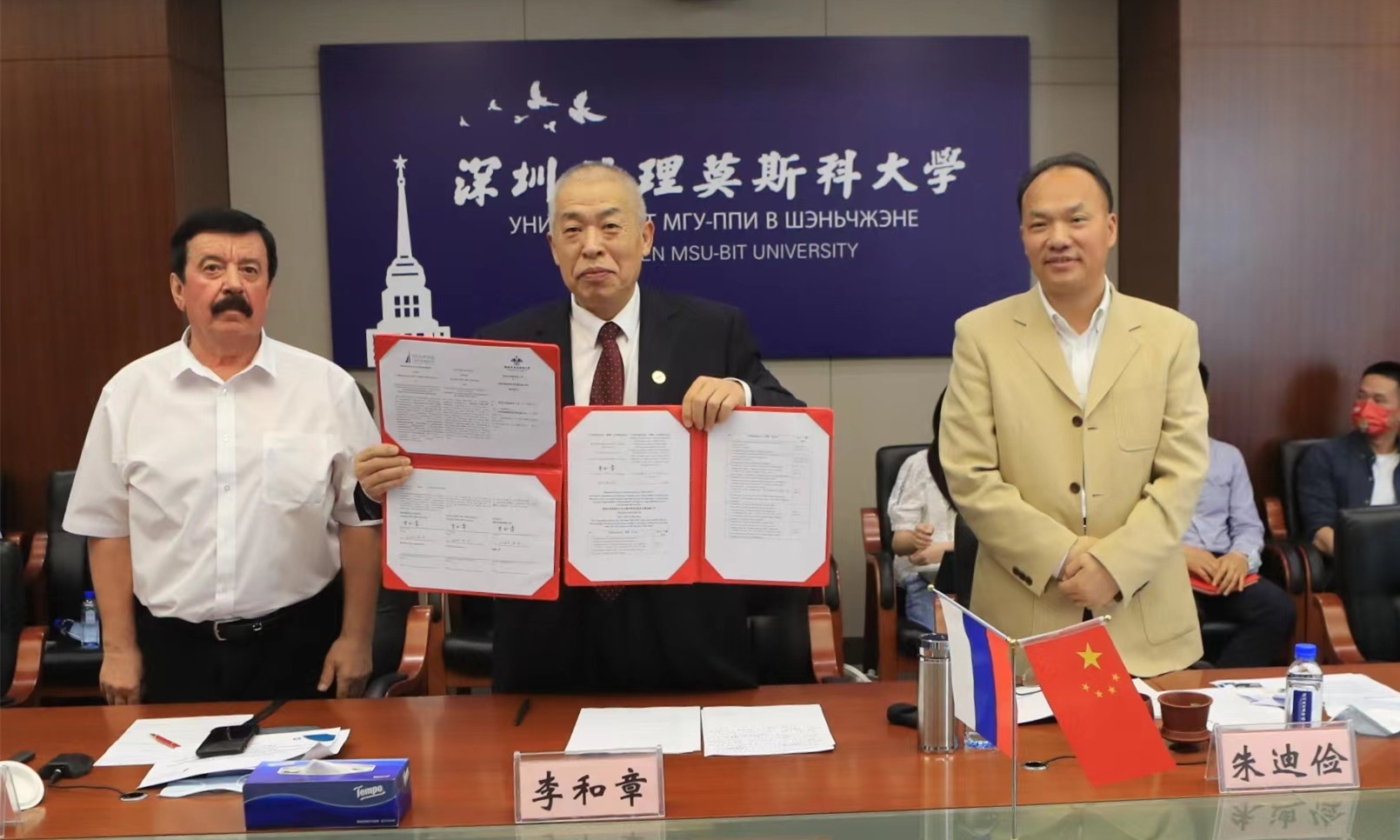 Li Hezhang (C), rector of Shenzhen MSU-BIT University (SMBU), displays documents at a ceremony held at the university yesterday, at which SMBU and the Financial University under the Government of the Russian Federation signed a letter of intent for cooperation via video link. Both sides agreed to cooperate in research, education, culture and information. Sun Yuchen
Shenzhen MSU-BIT University (SMBU) and the Financial University under the Government of the Russian Federation (Financial University) signed a cooperation agreement during a video meeting yesterday.
The objective of the cooperation is to establish and develop research, educational, cultural, information and other forms of cooperation between SMBU and Financial University.
Li Hezhang, rector of SMBU, suggested at the meeting that the cooperation will further promote cultivating bilingual students and contribute to long-term and sound development of China-Russia relations.
Li expected various exchange activities to be held for the two universities' students and teachers and invited Russian students who are interested in Chinese culture to major in Chinese language at SMBU, a new program the university will launch this year.
The two universities also plan to establish an international digital currency and financial asset laboratory, according to Stanislav Yevgenyevich Prokofiev, rector of Financial University, who added that Financial University values cooperation with China and believes that the signing will ignite the friendship between the two universities.
Built on the important consensus reached by President Xi Jinping and Russian President Vladimir Putin, SMBU is a non-profit Chinese-foreign cooperative university jointly founded by the Shenzhen Municipal Government, Lomonosov Moscow State University (MSU) and Beijing Institute of Technology (BIT) with an independent legal entity status.
Financial University, with a 100-year history, is one of Russia's oldest higher education institutions where financial experts, financial law experts, economists, IT experts, mathematicians, sociologists and political scientists are trained.