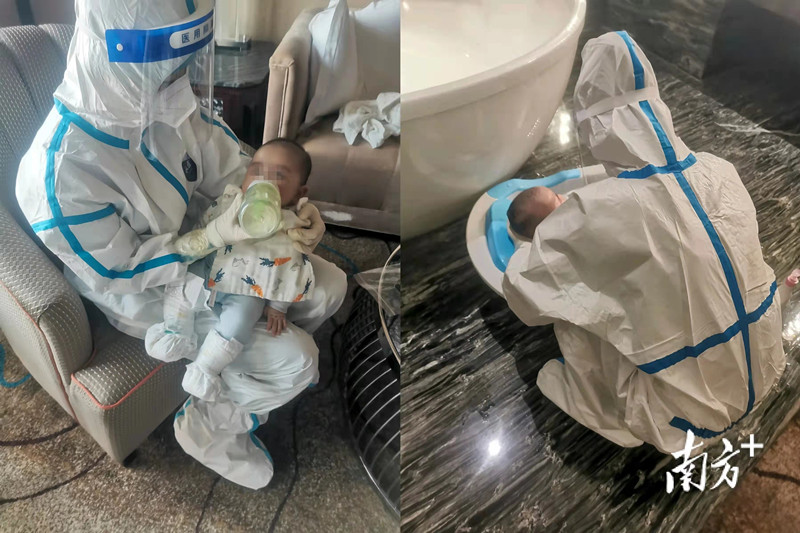 Medical workers take good care of a 2-month-old Hong Kong baby at a quarantine hotel in Jihua Subdistrict, Longgang District. Photos by Zhu Hongbo
A 2-month-old Hong Kong baby girl was released from mandatory hotel quarantine Monday, saying goodbye to three nurses who had cared for her nonstop for 21 days.
The baby girl's grandfather went to the quarantine hotel in Jihua Subdistrict, Longgang District to pick her up, according to a Nanfang Plus report.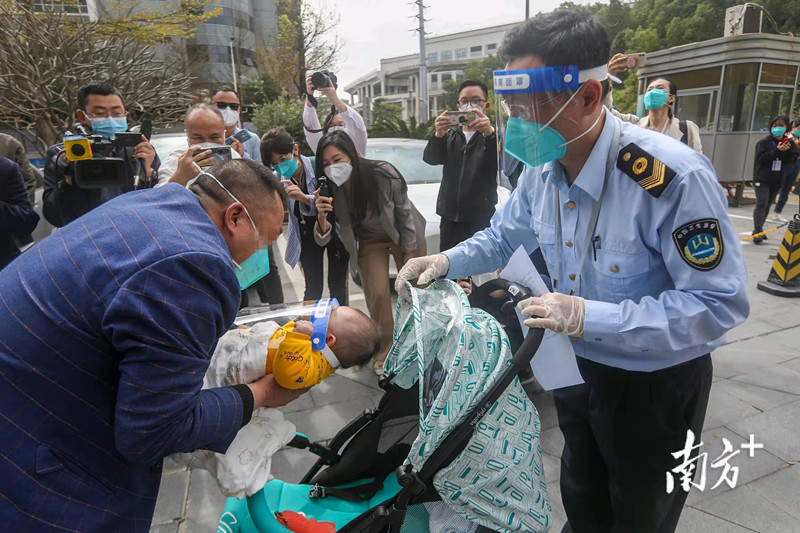 The baby's grandfather picks her up at the quarantine hotel Monday.
The baby, fondly known as "Bao Dwen Dwen," had been isolated since her arrival in Shenzhen from Hong Kong on Feb. 8. Unfortunately, her mother and grandmother both tested positive for COVID-19 on Feb. 13 and were transferred to the Third People's Hospital of Shenzhen, a designated COVID treatment facility, while Bao Dwen Dwen and her 14-year-old aunt remained isolated in the hotel.
Responding to concerns about the baby's well-being as an unaccompanied minor, Longgang's COVID-19 prevention and control headquarters office immediately contacted Longgang Maternity & Child Healthcare Hospital. One hour later, three nurses from the hospital took on the responsibility of taking care of the child, acting as her temporary "mothers."
The three nurses, Wu Meng-ying, Wei Fangjing and Zhong Xiaman, were all born in the 1990s and none have become mothers yet, which proved no hindrance for them to pour their love on the baby.
The nurses took turns taking care of Bao Dwen Dwen, each working an eight-hour shift and attending to her needs with great care. To ensure safety, they wore protective clothing for the whole process.
In the second half of February, when a new round of strong cold air struck, temperatures in Shenzhen plunged to a low of 6 degrees Celsius and the nurses used a heater to keep the room warm. "Wearing the protective suit, we felt hot and humid already. With the heater on, we were sometimes short of breath," said Wu, one of the nurses. "Looking at the baby's smile, however, I feel everything is worth it."
Another nurse, Wei, recalls how she repeatedly adjusted the angle of her mobile phone and tried to amuse Bao Dwen Dwen when making video calls to chat with the baby's mother. Her goggles would fog up in a matter of minutes, blinding her from seeing the baby's mother on the phone's screen. "The mother was still in the mood to see her baby, so I decided to hold on a bit longer," Wei explained.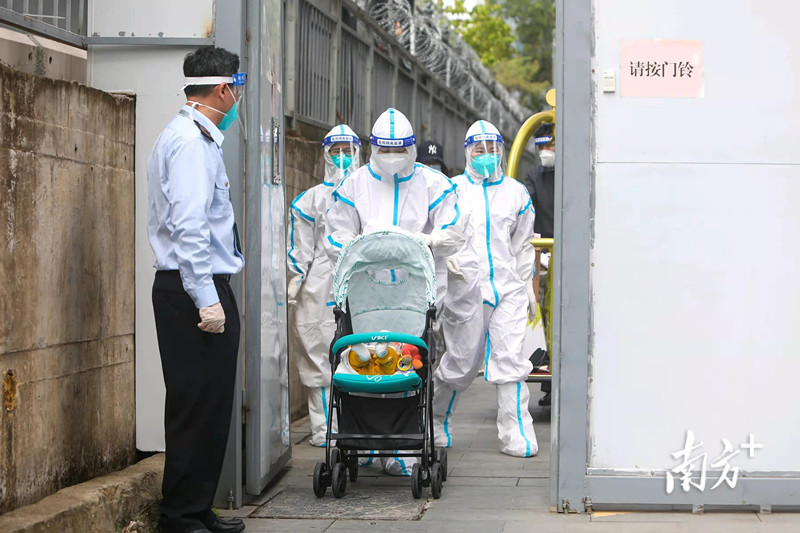 Three nurses, acting as the baby's temporary "mothers" during the quarantine, send her out of the hotel.
When the quarantine period was over, a strong emotional bond has been formed between the infant and her temporary "mothers."
"All we hope now is that Bao Dwen Dwen grows up to be healthy, safe and happy," the nurses were quoted telling Nanfang Plus. "We hope to see her again in Shenzhen when she grows up."