A freight train loaded with anti-COVID-19 supplies in 18 TEUs (twenty-foot equivalent units) left Shenzhen for Hong Kong yesterday, marking the launch of the cross-border freight train service to Hong Kong. This is part of the central authorities' efforts to help Hong Kong combat its latest COVID-19 wave.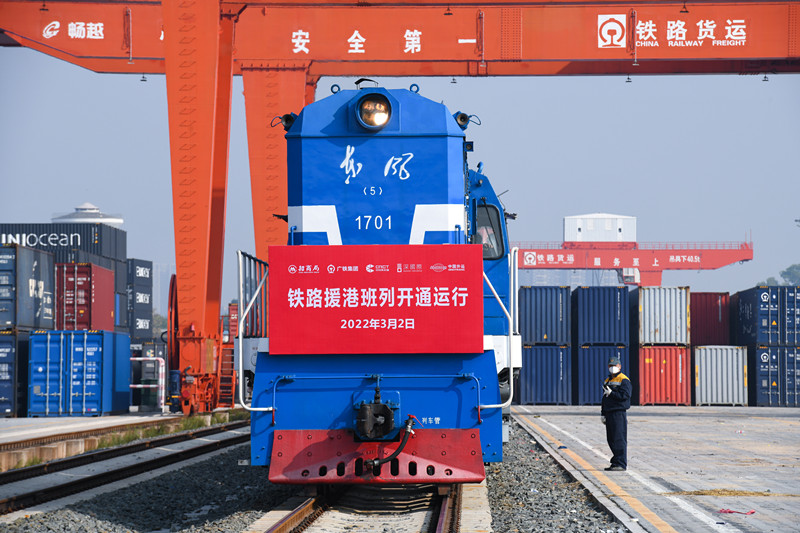 A cross-border freight train carrying anti-pandemic supplies from the Chinese mainland departs from Pinghu South National Logistics Hub in Longgang District in Shenzhen for Hong Kong yesterday. Xinhua
The train carried 1.1 million COVID-19 test kits, 20,000 pieces of protective clothing, and other medical supplies. It traveled a 20-kilometer route, from Pinghu South National Logistics Hub in Longgang District to the MTR Lo Wu Marshalling Yard in Hong Kong. The journey took about 35 minutes, and the supplies were distributed to the anti-epidemic front the same day.
The Shenzhen-Hong Kong freight train currently runs once a day, and its frequency may be increased according to Hong Kong's needs, said Lin Haoyu, deputy director of Shenzhen Customs' checkpoint inspection and supervision.
Lin said they are installing more information and technological devices at the station in order to increase efficiency.
The new cross-border freight railway route, together with several newly opened water expresses between Guangdong and Hong Kong, is helping to guarantee the steady flow of medical and living supplies to Hong Kong and injecting more confidence in the SAR in its pandemic battle.
It also marks the resumption of cross-border freight trains to Hong Kong after more than a decade. In 1962, the mainland opened freight trains to send fresh produce and livestock like pigs, cows and sheep to Hong Kong via Shenzhen.
Starting from October 2007, fresh supply transport train service to Hong Kong was halted and replaced by trucks. In 2010, the railway operator halted the rail freight transportation function between Shenzhen and Hong Kong.
In another development, 38 meat processing specialists from the Chinese mainland arrived in Hong Kong yesterday, Xinhua News Agency reported. They will pick up the slack to kickstart the normal supply of pork and beef to Hong Kong residents after the latest COVID outbreak has forced the shutdown of the SAR's two major slaughterhouses.
The team consists of experienced practitioners from Shanghai, Hangzhou, Shenzhen, Nanning of Guangxi and Xilingol League of Inner Mongolia.
They are expected to be stationed in Hong Kong for two months inside a closed loop, said Ng Fung Hong, a top food distributor and slaughterhouse operator in Hong Kong.
The 38 specialists will get down to work once Hong Kong's food watchdog gives the go-ahead.