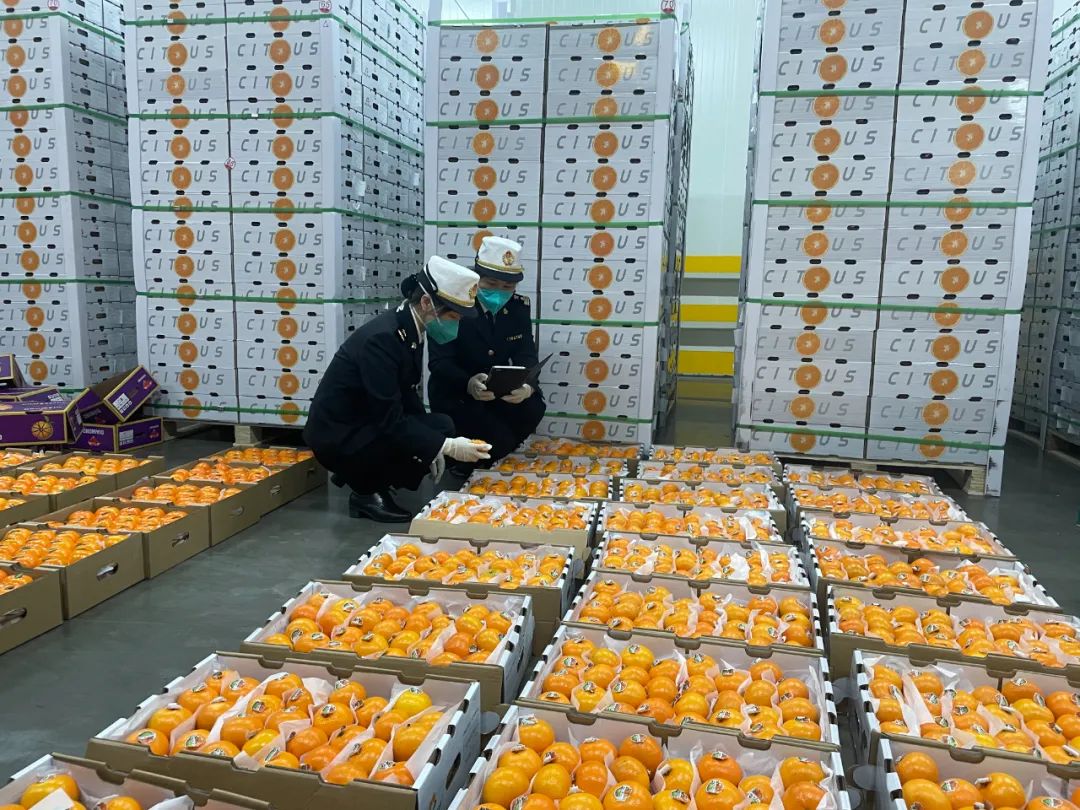 Buji Customs officers inspect fruits to be shipped to Hong Kong. Courtesy of customs
Buji Customs, responsible for inspecting 95 percent of the mainland's fruit supply to Hong Kong, has inspected 24,900 tons of fruits that were sent to Hong Kong since January, Shenzhen Customs said yesterday.
Shenzhen is Hong Kong's major source of fresh fruits and vegetables, with fruits and vegetables accounting for 80 percent of the items sold in the Hong Kong market.
Buji Customs had helped Shenzhen fruit exporters establish relationships with 200 fruit production bases in Guangxi, Yunnan and Hunan.
Aside from fruits, the fish and meat balls produced by Shenzhen Yongxiangxing Food Co. Ltd., a food factory with more 20 years of history, are also popular in Hong Kong.
Buji Customs simplified procedures to ensure that fresh frozen goods can be transported to Hong Kong within a day. So far this year, Shenzhen Yongxiangxing Food has exported 92 tons of meat balls to Hong Kong. Due to the recent wave of COVID-19 cases in Hong Kong the past week, Wenjindu Checkpoint officers have to work overtime sometimes to complete check for every Hong Kong-bound vehicle to ensure that vegetables can be delivered to Hong Kong in a timely manner.
Around 300 truckloads of fresh vegetables went through the checkpoint to Hong Kong a day. Statistics from Shenzhen Customs showed that around 100,000 tons of products worth 1.1 billion yuan (US$173 million) had been exported to Hong Kong as of Feb. 10 this year.
Shenzhen Bay Checkpoint, the only land checkpoint still open to passengers between Shenzhen and Hong Kong, received 800 inbound travelers a day. Since the Spring Festival holiday, Wang Yeqing, head of the Nanshan transfer unit for inbound travelers, had been working on the frontline for about 10 hours a day.
"Hong Kong is now in a grim situation fighting against COVID-19. The closed-loop transfer for inbound travelers is an important part of the chain for combating COVID-19 and also a support for Hong Kong's efforts," Wang said. Wang's daily routine consists of transporting inbound travelers to quarantine hotels.
"Most of our work is to help carry luggage and take care of pregnant women, children and elderly people, especially those in wheelchairs," Wang said. The transfer team even renovated a vehicle where Wang and his colleagues can directly push the elderly people in wheelchairs into the vehicle.
The latest statistics showed that more than 90 cross-border truck drivers have tested positive for COVID-19 since the first case was reported Feb. 4. Shenzhen Port Emergency Commanding Center served as a center coordinating departments stationed at the checkpoints including customs, immigration, public security, transportation and public health.
According to Xue Minghua, deputy chief of the Land Checkpoint Department of the Office of Port of Entry and Exit of the Shenzhen Municipal Government, the commanding office and related departments, acting within their own responsibilities, are racing against time in handling each suspected case efficiently.
"In the most urgent emergencies, we reported two drivers who have tested positive in a span of nine minutes," Xue said.