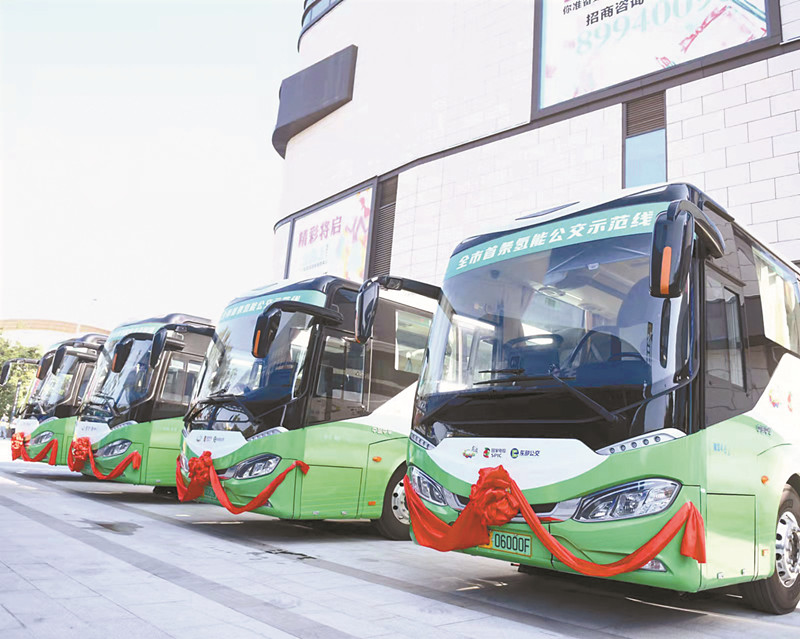 The hydrogen-powered buses. Shenzhen Daily-Agencies
Shenzhen's first batch of five hydrogen-powered fuel cell buses were officially put into use in Longgang District on Wednesday.
The buses run on routes from Huiyuan Bus Terminal in Pingdi Subdistrict to the Shuanglong Metro Station, through Shenzhen International Low Carbon City, Pingdi Middle School and Longgang Central Hospital. Rides are free for now.
The new environmentally friendly buses will serve participants of the 9th Shenzhen International Low Carbon City Forum, which will be held in Shenzhen International Low Carbon City in December this year.
The 11-meter-long buses look no different from regular ones, except it emits water instead of gas and its exhaust produces no pollution. It has a maximum load of 46 people.
Hydrogen fuel cell vehicles run by using hydrogen and oxygen to produce electricity for the motor.
Passengers can look forward to smoother and quieter journeys due to less engine vibration.
"The bus can be fueled in 20 minutes and run about 650 kilometers after it is fully refueled. It has advantages in energy saving because the power is generated through the chemical reaction between hydrogen and oxygen," Yi Jun, general manager of SPIC (State Power Investment Corp. Ltd.) Shenzhen New Energy Development Co. Ltd., said at the launch ceremony in Pingdi on Wednesday.
Longgang District hopes the bus route's operation will help expand low-carbon application scenarios, attract more low-carbon resources to the district, and help it become a pioneer demonstration area for peak carbon dioxide emissions and carbon neutrality.