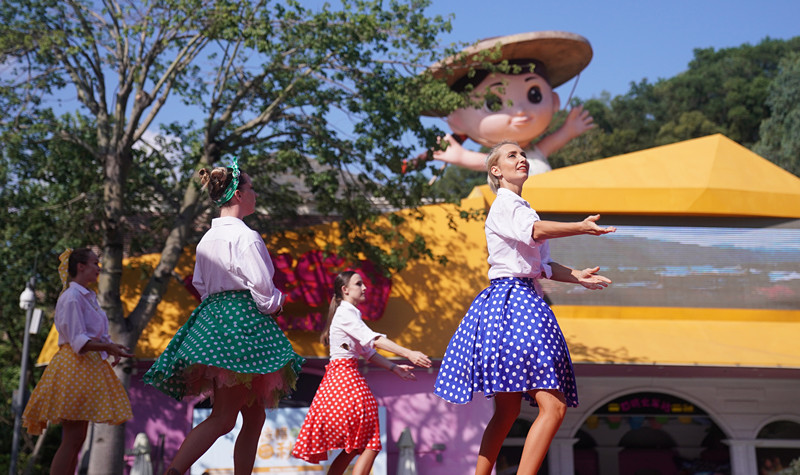 Expat artists during a performance in Gankeng Hakka Village in Longgang District on Saturday. Liu Xudong
More than 10 expat artists took part in a red-themed performance in Gankeng Hakka Village in Longgang District on Saturday.
The show, called "Longgang is My Home," is part of the International Artists Red Tour, which aims to promote the district's tourism as well as tell Shenzhen's stories via expats' voices.
Despite the scorching sun, expat artists made efforts to present their best performances to audiences. They are from 14 countries and regions, including Canada, Germany, Colombia, Russia and Ukraine, and have been living in Shenzhen for many years.
During the performance, they voiced a well-known slogan "If you come, you are a Shenzhener" in their native languages and they jointly sang a song called "Our Spring," to pay tribute to Shenzhen.
"Our Spring" is a multilingual song composed by nearly 100 foreign artists of the New Silk Road Artist Troupe.
A four-member Colombian musical family performed the lead in "Our Spring." They have been in China for 14 years and spent most of their time in Shenzhen. "My daughter was born here," said Shirley Frias Torres, the mother. "Her Chinese is better than her mother tongue."
As a family, they voiced their deep affection for Shenzhen through the performance. "We will perform as a Latin family for 'Our Spring.' Melody (the daughter) will sing alone a Chinese song. My husband is going to play his original song mixing Chinese and Colombian cultures," Torres said before the performance.
Canadian Byron John Eveson, who has been teaching in Shenzhen for nearly 11 years, said his performance "is my way of expressing my love and appreciation for my time here."