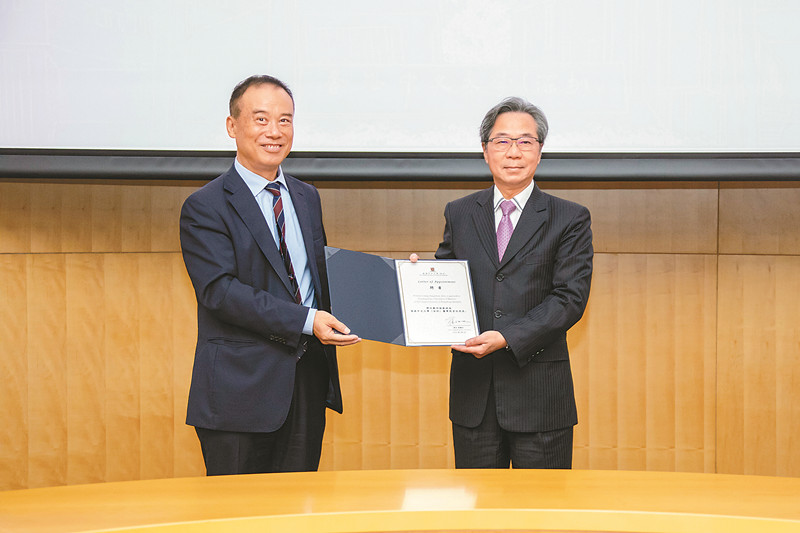 Xu Yangsheng (L), CUHK-SZ president, presents a letter of appointment to Davy Cheng, the founding dean of CUHK-SZ's School of Medicine. Courtesy of CUHK-SZ
The School of Medicine of the Chinese University of Hong Kong, Shenzhen (CUHK-SZ) was officially unveiled yesterday at the CUHK-SZ campus in Longgang District.
Davy Cheng was appointed as the founding dean of CUHK-SZ's School of Medicine at the establishment ceremony yesterday. The medical school has also announced that it will welcome its inaugural class of 2021 undergraduates majoring in clinical medicine this September.
Cheng, born in Hong Kong, has nearly 40 years of overseas working experience in the medical industry. "I always have a wish to bring everything I learned from the international society back to China and build an international medical school rooted in the country," he said.
Cheng's pioneering work in fast-track cardiac anesthesia and recovery has become the standard of cardiac anesthesia and recovery practice in cardiac surgery and anesthesia care around the world.
Xu Yangsheng, president of CUHK-SZ, said that the building of the School of Medicine is a milestone in the university's history, which also marked the determination of both Shenzhen and the Guangdong-Hong Kong-Macao Greater Bay Area to improve the country's medical education and to provide high medical service standards.
It is said that the school will build an international medical education and academic health system by collaborating closely with medical schools and institutions around the world.
By far, nearly 30 medical schools and global institutions including Duke University School of Medicine, World Federation of Societies of Anesthesiologists and London Health Sciences Center have expressed intentions to collaborate with the school.
In addition, the School of Medicine will strengthen cooperation with CUHK-SZ's three Nobel Laureate labs and Shenzhen Research Institute of Big Data to implement innovative medical education, research and clinical care, according to the university.
The School of Medicine's main building, covering some 8,100 square meters, was completed this July and will serve new students in September.
CUHK-SZ now has one affiliated hospital, also known as Shenzhen Jihua Hospital, which will offer 3,000 beds as planned after its construction is concluded.
The school is expected to create a comprehensive education system to provide bachelor's, master's and Ph.D. programs in areas such as clinical medicine, basic medicine, public health and biomedical engineering to over 6,000 students by 2030.