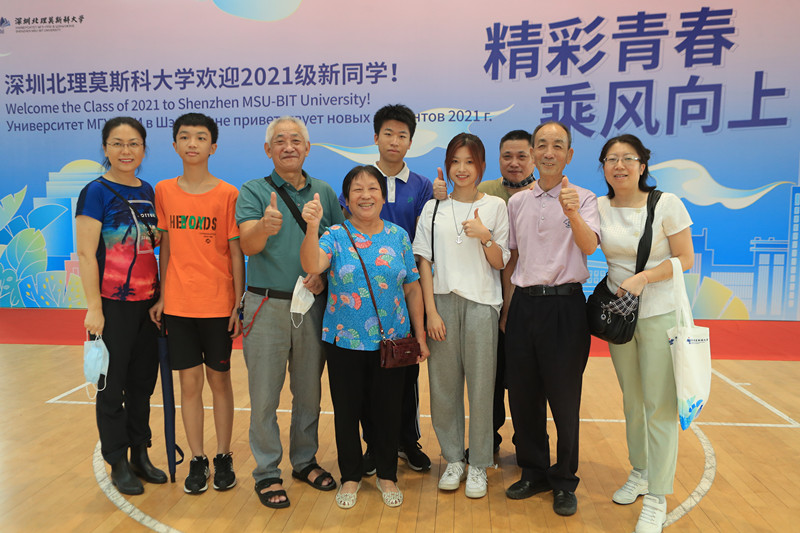 Liu Chengyu (4th R), a graduate of Bao'an Middle School who has been admitted to SMBU, poses for a picture with her family members Saturday. Sun Yuchen
Shenzhen MSU-BIT University (SMBU) welcomed its newest cohort of students coming to its Longgang campus on the registration day Saturday.
More than 400 freshmen from 18 provinces, municipalities and autonomous regions were greeted and guided by senior student volunteers to the registration site and dormitories.
Free shuttle bus service was available at Shenzhen Bao'an International Airport and Shenzhen North Railway Station on Saturday to pick up new students, said SMBU.
Wang Jingbo, a freshman from Henan Province who has been admitted to SMBU's electronic and computer science program, said that he chose the university as he wants to further his studies either in Beijing Institute of Technology (BIT) or in Lomonosov Moscow State University (MSU) four years later.
Wang also said it was his first time to visit Shenzhen. "Shenzhen is a metropolis, which is very open, developed and full of opportunities," he said.
After the registration, students will soon start learning the Russian language. Wang said though he is a bit worried as he is not very good at languages, he will find learning methods to overcome difficulties just like what he did during his English learning process.
Many parents were seen accompanying their children during the registration. A father surnamed Zheng told Shenzhen Daily that he and his son jointly made the decision to study in SMBU.
"This is a new university. We are confident about the school's academic strength in science and engineering," said Zheng, whose son graduated from Longcheng High School in Longgang District. "The environment is also very good."
Given the pandemic, all students and their parents were required to present their health credentials and have their body temperature taken at the checkpoint set up at the entrance of the campus.
Meanwhile, SMBU provided free nucleic acid tests for all students to ensure their safety on campus.