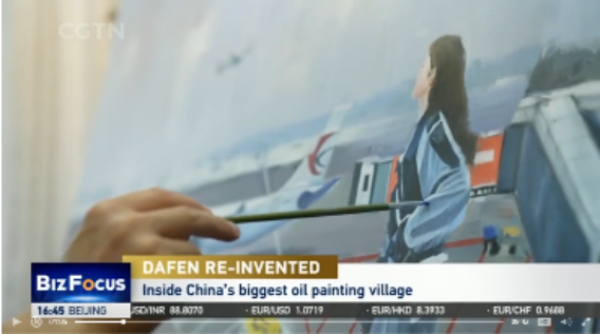 Time now for our special series BizFocus, where our anchors and reporters take a closer and deeper look at some of the most dynamic business sectors in China. We'll be speaking with a range of experts to bring you the insights regarding the latest developments and trends shaping the world's second largest economy. In this edition, we explore China's biggest oil painting village in Shenzhen.
HUANG FEI Shenzhen "Biz Focus, feeling China's economic pulse. I'm Huang Fei in Shenzhen. We are live in the southern village of Dafen, once known as a global art factory producing an estimated 60 percent of the world's new oil paintings.
But that was 30 years ago. The shops that once churned out copies of western masterpieces have been replaced by art studios and galleries like this.
Thousands of painters have come and gone as the village developed a new identity. The few that have stayed since the beginning, shared their stories."
On Tang Xuefeng's canvas, you'll see stories of young dreamers, searching for meaning in this fast-changing society. Their struggles very much mirror the painter's own experience.
TANG XUEFENG Painter "I came to Dafen at a depressing time, during the 2003 SARS epidemic. In 2005, international orders came flooding in: paintings were shipped to Europe and the US by containers. I started off as a copy artist, but later turned to original works to express myself. I believed my unique interpretation of modern life would gain international recognition."
In 2019, one of Tang's paintings was shown at the Paris Louvre Museum. Many artists in Dafen attribute their growth to the redevelopment, which saw the building of Shenzhen's largest art museum, more affordable housing, and facilitated international exchanges.
Today's Dafen attracts millions of tourists each year. The old alleyways that once cranked out copies of the Dutch artist Van Gogh are selling a new idea: for ten dollars, anyone can be an artist.
"This area needs to be highlighted."
"Did you use to paint Van Gogh in a factory?""
"Yes, not much. Van Gogh was difficult to imitate. You did a good job."
"Is there a lot of interest in these DIY experiences?"
HUANG ZHENYI Art dealer "Yes, this place is packed during weekends and holidays. The DIY experience brings extra money to support my family. But my main source of income is selling paintings. Now that the economy is slowly recovering from the pandemic, I hope my business will improve too."
China is the world's second largest art market, attracting a fifth of global transactions. The country's wealthiest have been driving high-end sales of customized paintings for over a decade.
LIN SHUSEN Painter, Deputy director of Shenzhen Dafen Artists Association "When the economy thrives, people collect. One of my pieces was sold for 30,000 dollars. Clients would commission a painting to remember a place, their hometown, or someone they loved. We are always innovating, with new themes, compositions and colors. We need continuous funding from various art organizations to promote our work. Because I believe Dafen artists are actually very creative."
HUANG FEI Shenzhen "In many ways, the changes in Dafen mirror the broader Chinese economy. The dip in international demand since 2008 has led many companies to change tactics.
China wants to be less dependent on exports to become more self-sufficient, industries continue to move away from low skilled, repetitive labor, to smart, digitized solutions that deliver higher-value products.
I spoke to a company that is leading efforts to modernize art production, and 'translating' old classics to a new generation."
170 years since Vincent Van Gogh's birth, his Starry Night still shines bright in digital re-imaginations. These animations are the latest "lobby art" occupying hotels and event spaces. Meanwhile, Chinese millennials are filling their homes with 3D artwork.
ZHOU FENG CEO of Yagene Culture Group, Director of Shenzhen Dafen Artists Association "The market for decorative paintings is growing, but so is the cost of labor. Our solution is smart production. We work with artists by scanning their paintings on our 3D printers and reproduce using the same pigments."
HUANG FEI Shenzhen, Guangdong Province "This is one example of an oil painting being reproduced through 3D printing. It looks and feels just like the original piece, with similar textures and coloring. The difference, of course, is that it's a lot more affordable than the original 100,000 yuan price tag."
Zhou Feng's company sells seven million dollars' worth of paintings each month through e-commerce sites. But he sees potential in a different kind of online marketplace.
ZHOU FENG CEO, Yagene Culture Group "In the future, we want to turn this painting into a Metaverse experience. You can drink tea, ride the boat and hang out with friends. But we want to explore the concept of NFT as well. You'll need certain tickets to unlock new interactions, it's like a game."
An NFT, or non-fungible token, is a one-of-a-kind digital asset. Regulations are still being developed in China. But industry observers say virtual curated spaces can help new artists reach a much bigger audience, whist creating a new form of investment.
ANSON ZHANG Chairman, Grandhub Exhibition Ltd "For many artists, it's hard to make ends meet before they are famous. NFT allows a young artists to show their work, not just through offline exhibitions or auctions. And as an investment, NFT is promising, especially if people can trade in a professional, state-backed marketplace."
Technology has changed the way art is being created and shared around the world. I'm joined by Ms Feng Jianmei, founder of the TNT Contemporary Art Space here in Dafen.
1. Wendy, how have you seen traditional artists innovate in the age of digital technology and social media?
2. Dafen supports a 4.2 billion-yuan annual industry of art, and increasingly, it's driven by young Chinese consumers. What are they looking for / who's buying new art?
3. Shenzhen has done a lot over the past decade to transform the industry from reproduction to creativity. How do we help original artists succeed, not just in China but also on a global stage?
Art is often a depiction of social reality. The changing face of Dafen village and Shenzhen reflects a decades-long evolution in the Chinese economy. From imitation to creativity, from low-end labour to high value, tech-driven innovations. The future is led by those with bold ideas and perseverance to overcome challenges. From Shenzhen, this is Biz Focus.
Picture Source and Reference: CGTN
Notice: We respect your intellectual property right and your other lawful rights. As any content here violates your lawful right, please contact us. And, we will delete related content.