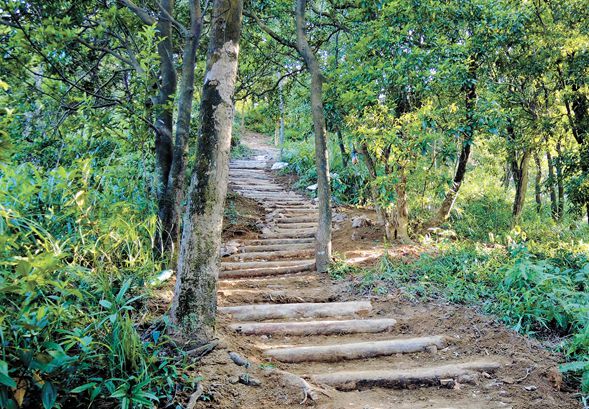 The under-construction steps of the Dawo Ridge hiking trail. Courtesy of Longgang's urban management authority
Longgang is inviting volunteers to work on building handmade hiking trails that are suitable for family hiking, sources from Longgang's urban management authority said.
The hiking trails, spanning 80 kilometers, are distributed in Dawo and Honghua ridges, Yinhu Mountain, Songzikeng, and Sanzhoutian, linking parks, reservoirs and mountains.
The Dawo Ridge section is now under pilot construction and will be connected with the future Longgang Children's Park.
To minimize their impact on the environment, the hiking trails that will link parks, reservoirs and mountains will be mainly build by hand instead of using machines. Fallen trees, dry sticks, stones and other rock fragments will be used in the trails' construction and the maintenance of the mountain's ecology.
The district will invite 50 volunteers, preferably aged between 18 and 45, with keen interest in hiking and awareness of environmental protection. The district will organize at least six activities for the construction of the hiking trails between October and December. More information can be found at Longgang government's official WeChat account "深圳龙岗发布."