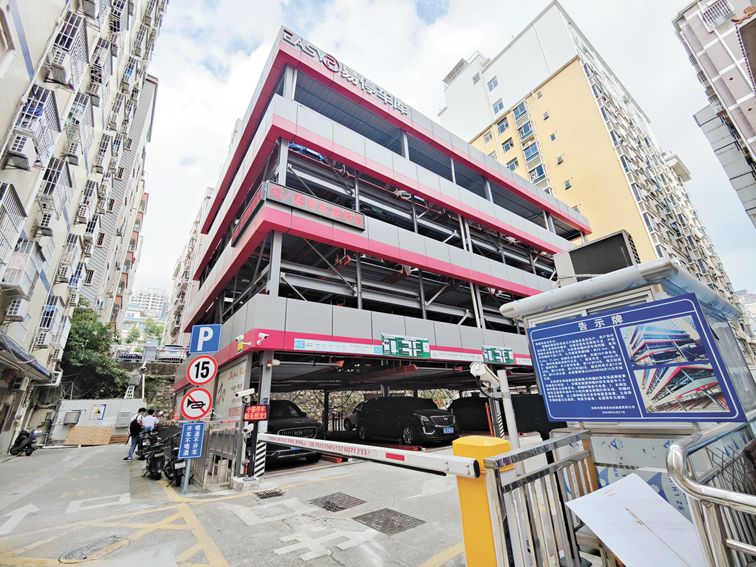 A view of the entrance to a mechanical parking system at Hekan Village in Wuhe Community, Longgang District. Fang Sheng
At the northwest corner of Hekan Village, a typical urban village located in Bantian Subdistrict, Longgang District, a six-story mechanical parking system stands out among residential buildings.
The mechanical parking system, which was the first privately invested and constructed mechanical parking system in an urban village in Shenzhen, was put into use in 2020 and has since helped ease parking difficulties in the village with an additional 76 parking spaces, Shenzhen Special Zone Daily reported.
"The parking fee is not cheap, but it's good to have a parking space without going around and looking for one at night," a car owner told the Daily reporter.
Like those in many other urban villages, Hekan Village residents have been plagued by parking space shortages. In September 2019, the subdistrict approved the construction of a mechanical parking system in the village and the system was put into use after its completion in January the next year.
The parking lot owner, a man surnamed Yang, said he got a loan of over 3 million yuan (US$433,200) to invest in the garage.
At present, Yang has one employee, and his annual labor expense is about 100,000 yuan. The lot has about 50 fixed parking spaces and the rest are mobile parking spaces, averaging 50,000 yuan in monthly gross income.
"Although the income from operating the garage is not as good as that from building apartments for rent, it is still acceptable," Yang was quoted as saying.
According to Yuan Jianrong, Party chief of Wuhe Community, the community is planning to build its second mechanical parking system in an urban village.
According to public reports, by the end of 2020, Shenzhen had over 3.5 million cars and only 2.4 million parking spaces of various types. The parking problem is even more prominent in the densely populated urban villages, which have relatively poor infrastructure.
The mechanical parking system, boasting high space utilization rate, can be a solution to urban villages' parking woes. According to the city's transport bureau, among the city's 50 mechanical parking systems built since 2019, six are located at urban villages with 758 parking spaces.
Zhang Yi, secretary general of Shenzhen Parking Industry Association and a deputy to the city's legislature, noted that the government must dare to break the norms, do a good job in top-level design, increase guidance and improve work efficiency to promote the construction of mechanical parking systems in urban villages.
Relevant enterprises in the industry are also advised to innovate business models and seize opportunities, according to Zhang.