Chinese sprinter Su Bingtian made history by setting a new Asian record in the men's 100m semifinal at the Tokyo Olympics on Sunday and became the first Chinese to enter the final. Su had a half-year closed-door training in Shenzhen in preparation for the Olympics, local Chinese newspapers reported Aug.2.
Su and more than 20 athletes of China's track and field team carried out training behind closed doors at Shenzhen Universiade Sports Center in Longgang District from mid-November last year to June this year, the reports said.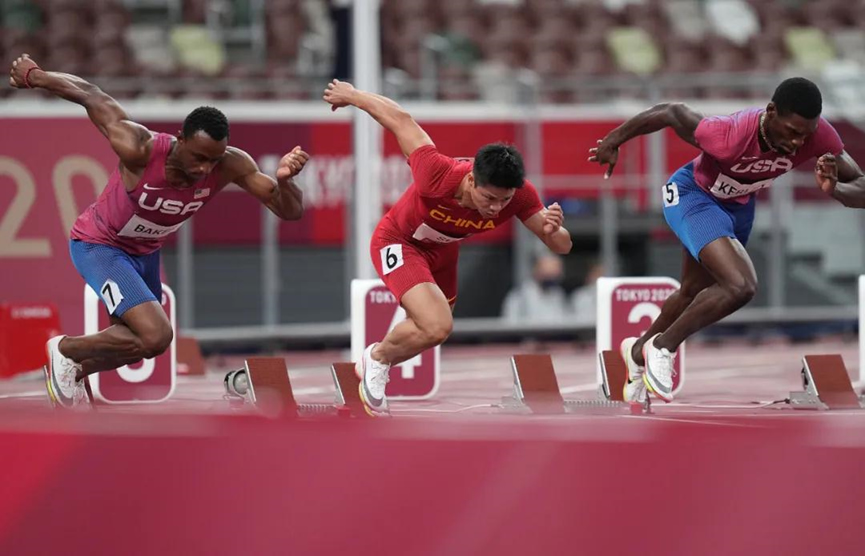 Su Bingtian (C) competes in the men's 100m final at the Tokyo Olympics in Tokyo on Sunday. Xinhua
Before the Tokyo Games, Su ran a time of 9.98 seconds twice in national competitions and was "in top form" as domestic media reported.
In a previous interview, Su revealed that the Tokyo Olympics may be his last time to compete for the country on the world arena. "Record is not the most important. My goal is to enter the final," Su was quoted as saying.
In retrospect, the 32-year-old from Zhongshan, Guangdong Province, has fulfilled his personal goal set before the Olympics.
"We have been training in Guangdong in earlier days. The venue and weather [in Guangdong] were very similar to that here," Su replied in an interview after the men's 100m preliminary round, when he was asked by a reporter whether his performance was affected by humidity levels of 85 percent in Tokyo.
Su revealed his daily training on Weibo, the Chinese Twitter-like platform, several times in his posts, in which the Universiade Sports Center's crystal-shaped stadium was clearly visible in pictures.
Su Bingtian reacts after winning the men's 100m semifinal at 9.83 seconds, setting the new Asian record, at the Tokyo Olympics on Aug. 1.
According to Hu Xiaoli, vice president of the youth amateur sports school in Longgang, this year marked the third time Su had come to Longgang for pre-competition training.
The previous two trainings were for the 2018 Asian Games in Indonesia and the Spitzen Leichtathletik meeting in Lucerne, Switzerland, in 2018. Su spent an average of more than 40 days on training each time.
Hu was deeply impressed by Su's self-discipline, hard work and low profile, and recalled that Su was still writing his Ph.D. dissertation in addition to his daily training in Longgang ahead of the Olympics.
Su also interacted with young athletes from Longgang during his training in Shenzhen. The young athletes depicted Su as "a kind and easy-going big brother without putting on airs."
Su's story with Shenzhen began at the 26th Summer Universiade in 2011. He won the bronze medal in the men's 100m final with 10.27 seconds at Shenzhen Universiade Sports Center and pocketed the first medal for the Chinese delegation in the track and field event at the Universiade.